The Disaster Resilience Education Victoria (DREV)
The aim of school-based Disaster Resilience Education (DRE) is to build students' understanding of the causes, nature and effects of hazards, while also fostering a range of competencies and skills that will enable them to contribute proactively to disaster prevention, mitigation, preparedness, response and recovery. The development and delivery of school-based DRE has been identified as a key priority for action in disaster resilience policy frameworks and strategies from the international to the local level. To support the delivery of the quality of DRE in Victorian secondary schools, the Country Fire Authority (CFA) and the Victorian State Emergency Service (VicSES) in collaboration with secondary school teachers and students, have developed the Disaster Resilience Project (DRP) – a multi-hazard, teacher-delivered, web-based DRE program for students in Years 7 to 9. The program aims to increase students' knowledge and awareness of local disaster risks and build their capacity for initiating and participating in practical action for disaster risk reduction and resilience.
It rests on three pillars: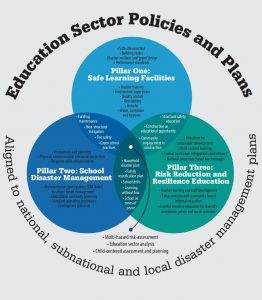 Safe Learning Facilities
School Disaster Management
Risk Reduction and Resilience Education
Risk Reduction and Resilience Education best practice recognises that children and youth are agents of change and should be given the space and support to contribute to disaster risk reduction.
This can be achieved by an active learning approach in the classroom, which accepts children and youth as legitimate stakeholders and agents of change, and provides the opportunities for their genuine participation in disaster resilience.
The original Tasmanian DRET website was made possible with funding from the Tasmania Bushfire Mitigation Grants Program supported by the Australian Government Attorney-General's Department and the Government of Tasmania as well as original material and support from Country Fire Authority and Victoria State Emergency Service.
Country Fire Authority acknowledges and thanks Tasmania Fire Service for giving permission to adapt their Disaster Resilience Education Tasmania website for Victorian schools.